John Kerry helped the terrorist Islamic Republic regime and its allies who are the enemies of the people of Iran and the United States by paying 150 billion dollars plus 1.8 Billion Dollars in CASH!;
however, not all democrats are alike.
This news came out and almost everyone had heard about it, but it had not been reflected in the suppressive mainstream media.
Even the voice of the world's top politician, Donald Trump, did not get anywhere and was censored…, until the person to blame confessed himself:
"The Iranian regime has given part of the money it received in the nuclear deal to the terrorist groups."
Not only the money did not reach its main owners, the people of Iran, and it was not spent on improving the economic situation and the turmoil the Iranian people are living in, but also it was directly handed over to the enemies of the people!
It is beyond imagination to know how many terrorist groups were created and dispatched with this money and what weapons, bombs, and equipment were bought or made, and how much blood was shed and crimes committed!
Suppression of domestic protests, imprisonment and execution of protesters, creating insecurity in the Middle East, missile attacks on Israel and Saudi Arabia, clashes and civil wars in Yemen, Iraq and Syria, killing and injuring thousands of people, Human Rights Forces as well as the Peace Corps of various nationalities such as Iranian, Syrian, European and American… , all were only a part of the incredible service of John Kerry's team.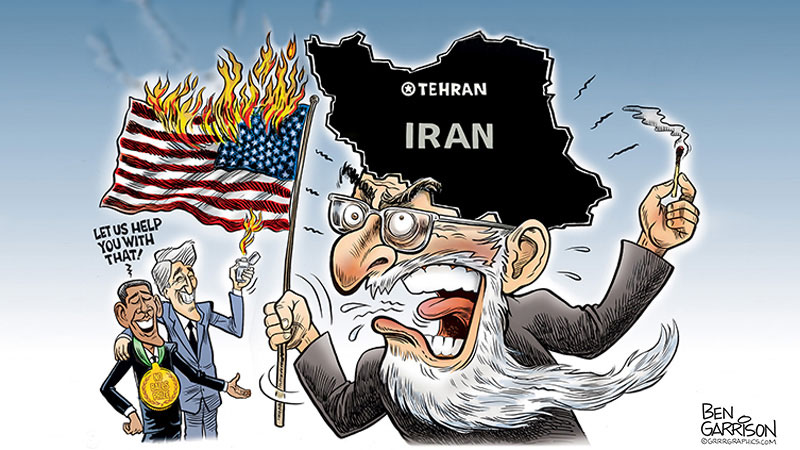 On the other hand, Seyed Mohammad Hosseini, the leader of RESTART populist movement, empty-handed, without any tribune and with thousands of enemies was able to strike a fatal blow to the regime of Iran, Russia and Bashar al-Assad, only with three episodes of a radio program called "The defenders of the shrine of Bashar al-Assad" which is still among the most talked-about programs after two years.
A program that went viral with millions of downloads on Telegram and made the Islamic Republic of Iran do whatever it takes to destroy Seyed Mohammad Hosseini and unite all its cyber forces to block and take down his social media pages and also to degrade his personality and threaten him day and night.
From religious channels to sex and porn accounts on Instagram, were all under the supervision of Iran's Ministry of Intelligence, all alike and united.!!
However, Seyed Mohammad Hosseini's programs were more influential than that to be stopped…
Soon dispatching forces from Iran to defend and fight for the shrine of Bashar al-Assad, which previously had a rising uptrend, became less and less trendy.
Public opinion pressure on the dispatched forces and their families (formerly called warriors but currently mercenaries) became to the extent that dispatching forces to Syria became almost zero from Iran, which made the regime of Iran to hire forces from neighboring countries.
Then again, when the Islamic Republic of Iran's dirty game was made public and the number of dispatched forces to Syria declined, the importance of this war dimmed as a result and that made the fire of this regional conflict subsided that saved lives of many troops from Iran, Syria, US, etc.
John Kerry financially supported Iran's terrorist regime,
however,
Seyed Mohammad Hosseini helped to disarm this regime.
Now we are asking you:
"Shouldn't America take John Kerry to the court and appreciate Seyed Mohammad Hosseini for everything he has done so far?"
With $150 billion that John Kerry and Obama gave to the terrorist regime of Iran, Iran is becoming nuclear-capable and has trained thousands of new terrorists to destroy Israel!
Kerry and Obama are the exact ones to blame for any casualties or anybody being killed in the US and Isreal by the terrorist regime of Iran.
With $150 billion, one can send one thousand shuttles to the moon!
Yes, exactly one thousand!